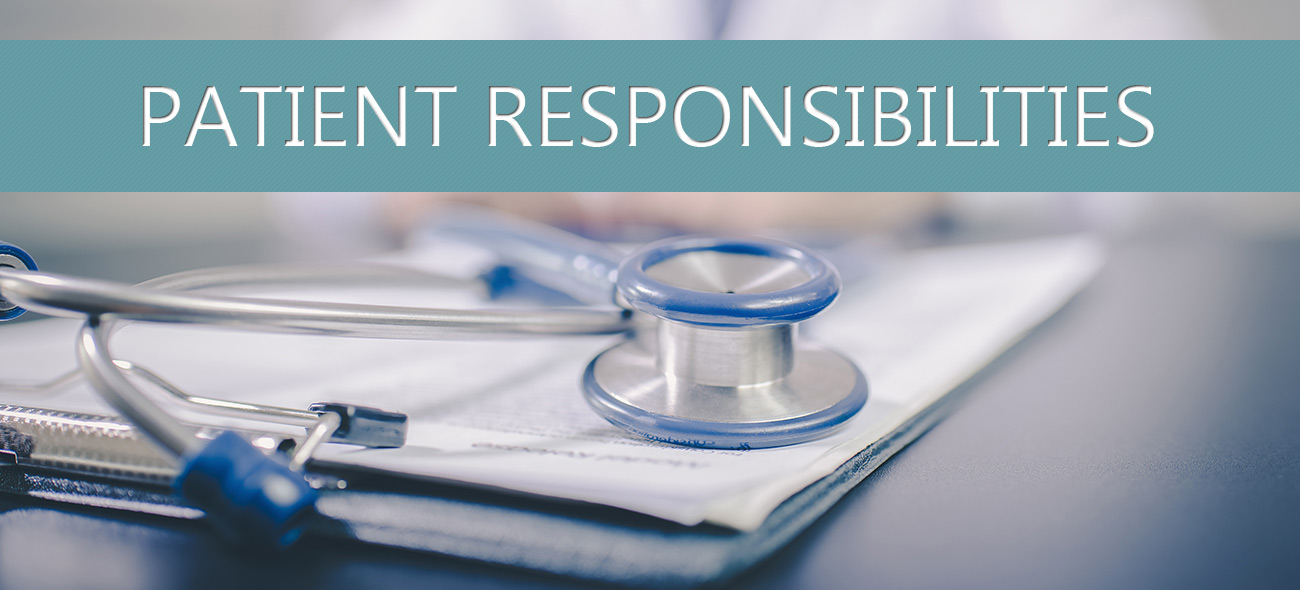 Patient Responsibilities
IN ADDITION TO PATIENT RIGHTS, A PATIENT ALSO HAS CERTAIN RESPONSIBILITIES. THESE RESPONSIBILITIES ARE PRESENTED TO THE PATIENT IN THE SPIRIT OF MUTUAL TRUST AND RESPECT.
The patient has the responsibility to provide accurate and complete information concerning his/her present complaints, past illnesses, hospitalizations, medications (including over the counter products and dietary supplements), allergies and sensitivities, and other matters relating to his/her health.
The patient and family are responsible for asking questions when they do not understand what they have been told about the patient's care or what they are expected to do.
The patient is responsible for following the treatment plan established by his/her physician, including the instructions of nurses and other health professionals as they carry out the physician's orders.
The patient is responsible for keeping appointments and for notifying the facility or physician when he/she is unable to do so.
The patient/family member/patient representative is responsible for disposition of the patient valuables.
Provide a responsible adult to transport him/her home from the facility and remain with him/her for a period of time designated by his/her physician unless exempted from that requirement by the attending physician.
In the case of pediatric patients, a parent or guardian is to remain in the facility for the duration of the patient's stay in the facility. The Center does not see patients under the age of 16 years.
The patient is responsible for his/her actions should he/she refuse treatment or not follow his/her physician's orders.
The patient is responsible for assuring that the financial obligations of his/her care are fulfilled as promptly as possible.
The patient is responsible to inform the facility whether the patient has a living will, medical power of attorney or other directive that could affect his/her care.
The patient is responsible for being respectful of all of the health care providers and staff, as well as other patients.
Feedback on Our Services
You may contact any of the following:
Odessa Endoscopy Center at 432-335-8300
Department of State Health Services at 888-973-0022 or by mail to: Manager, Health Facility Compliance Group, Post Office Box 149347, Austin, Texas 78714-9347
Medicare at 1-800-633-4227 or by visiting http://www.medicare.gov/claims-and-appeals/medicare-rights/get-help/ombudsman.html
Office of Civil Rights at 1-800-368-1019, 1-800-527-7697 (TDD) or by visiting https://ocrportal.hhs.gov/ocr/portal/lobby.jsf or by mail at U.S. Department of Health and Human Services, 200 Independence Avenue, SW, Room 509F, HHH Building, Washington, D.C. 20201
Complaint forms are available at http://www.hhs.gov/ocr/office/file/index.html
Covenant Surgical Partners Compliance Help Line at 855-315-0528 or by visiting www.covenantsurgicalcompliance.com
AAAHC at 1-847-852-6060 or in writing to Accreditation Association for Ambulatory Health Care, 5250 Old Orchard Road, Suite 200, Skokie, IL 60077 or via email at www.AAAHC.org